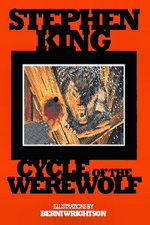 pg. 14

The werewolf's eyes are described "…its yellow eyes blazing…". In July (pg. 70) -and from here on- the werewolf's eyes are green. Interesting note, all pictures do show the werewolf with green eyes, except pg. 78 where the eyes have yellow irises and green sclera.
pg. 80-81

The werewolf reached through the window of Constable Lander Neary's Dodge pick-up. But on page 81 it says that the werewolf yanked him half out of the Ford pick-up's cab.
pg. 120

(Firearm errors) We read "There is a gun in Marty's lap, a .38 Colt Woodsman.". Colt did make a Woodsman model, but it was a .22 semi-automatic.
( Note: All page numbers are from the Signet Special paperback, unless otherwise noted. )
---
This page was last modified on 5/26/2013
Ad blocker interference detected!
Wikia is a free-to-use site that makes money from advertising. We have a modified experience for viewers using ad blockers

Wikia is not accessible if you've made further modifications. Remove the custom ad blocker rule(s) and the page will load as expected.